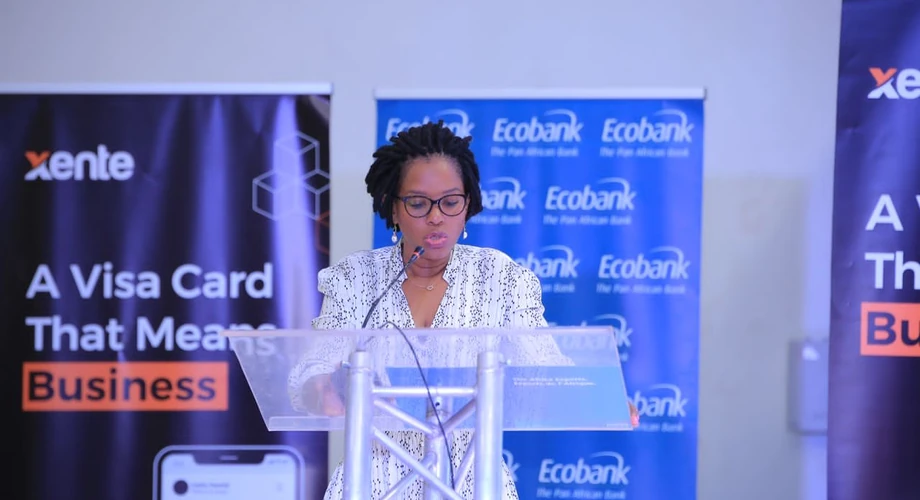 Ecobank Uganda has announced a strategic partnership with Xente to sponsor their innovation of visa-enabled cards for SMEs and Corporate Clients.
During the Xente Visa Card Launch held on Wednesday, representatives from the bank revealed that Xente will support its SME and Corporate clients with Virtual and Physical Cards using Eco Bank's Bank Identification Number (BIN).
"In this program, we enable payments for customers on behalf of the merchants / partners we work with – and XENTE is the right fit for us. Xente will support its SME / Corporate clients with Virtual / Physical Cards that are running using our Bank Identification Number (BIN) while we do the backend transaction processing, fraud monitoring and all that ensures your transaction is seamless and secure," said Ecobank Uganda Managing Director, Muliisa B Grace.
The partnership with Xente is in line with the bank's commitment to driving innovative products and services to meet the demands of their customers. "Our passion for everything Digital Banking brings us here today," Muliisa further explained.
Ecobank provides an array of digital solutions for SMEs and Corporate companies like Rapidcollect- One Bank One Africa, an attractive option for business owners who want to grow their operations across Africa without having to open new accounts across the continent, send and receive money, pay their employees abroad, pay suppliers abroad and enjoy borderless banking.

Their partnership with Xente to issue the Xente Visa Business Card is a further demonstration of Ecobank's commitment to Fintechs, SMEs, and Corporates in Uganda.
Through the Ecobank Fintech Challenge, they strive to contribute to the growth potential of the Pan African Fintech success stories.
The ultimate winner for 2022 will be awarded a cash prize of $50,000. All finalists are inducted into the Ecobank Fintech Fellowship, which allows them to explore deals, integration, and commercial partnership with the Ecobank Group. The deadline for submission is on 25th September 2022.
"I encourage all Fintechs in Uganda to apply for our current program through our website or social media platforms so that they can have a chance to win a cash prize of USD50,000 and partner with Ecobank just like Xente," Muliisa noted.
"Xente has been able to attain their Payments License and jointly with Ecobank Uganda and Visa, Launch the Xente VISA Business Card. I wish to congratulate you MD [Allan Rwakatunga, Xente's founder and CEO] and all the teams from Xente, Visa and Ecobank for working hard to make this a reality," Muliisa concluded.